Bookfolding toolkit to gift
Our toolkits are the perfect gift for any crafty person you know. They contain all the tools someone needs to create stunning pieces of folded book art. We offer two different toolkits. The basic toolkit contains a metric ruler, folding tool and a voucher for a free pattern. The complete starter kit contains everything from the basic toolkit and also comes with a suitable book that can be used to fold a folded book art design. A book however is very easy to find, almost all hardbacked books can be used.

Simply use the voucher from the toolkit to select any pattern from our website. We have over 450 designs to choose from, so there's surely something for anyone! Become a book folding professional with this DIY bookfolding toolkit.
Once you've gifted the toolkit to anyone, they can use the steps from the voucher to download the pattern, everyting is instructed on the voucher. A clear step-by-step manual on how to create your folded book art is also included with the downloadable pattern. These sets are perfect for beginning bookfolders or for people who are very crafty but have never done this before. Our patterns are extremely easy to use and the included manual is very easy to understand.

Our toolkits form the best possible Christmas gift, birthday gift or just as a gift for any crafty person you know. Be unique and give them something they've never seen before. We promise they'll enjoy learning a new craft!
ALL TOOLKITS ON SALE NOW!!! Basic bookfolding toolkit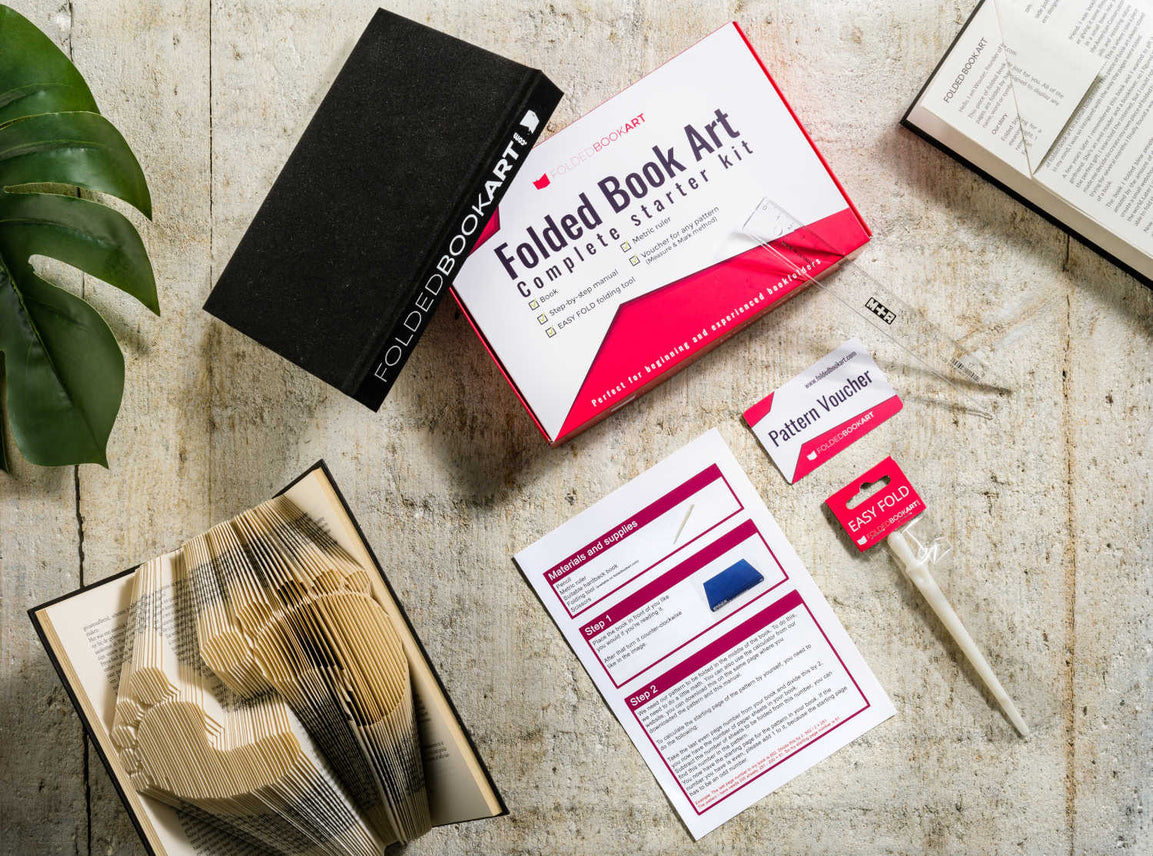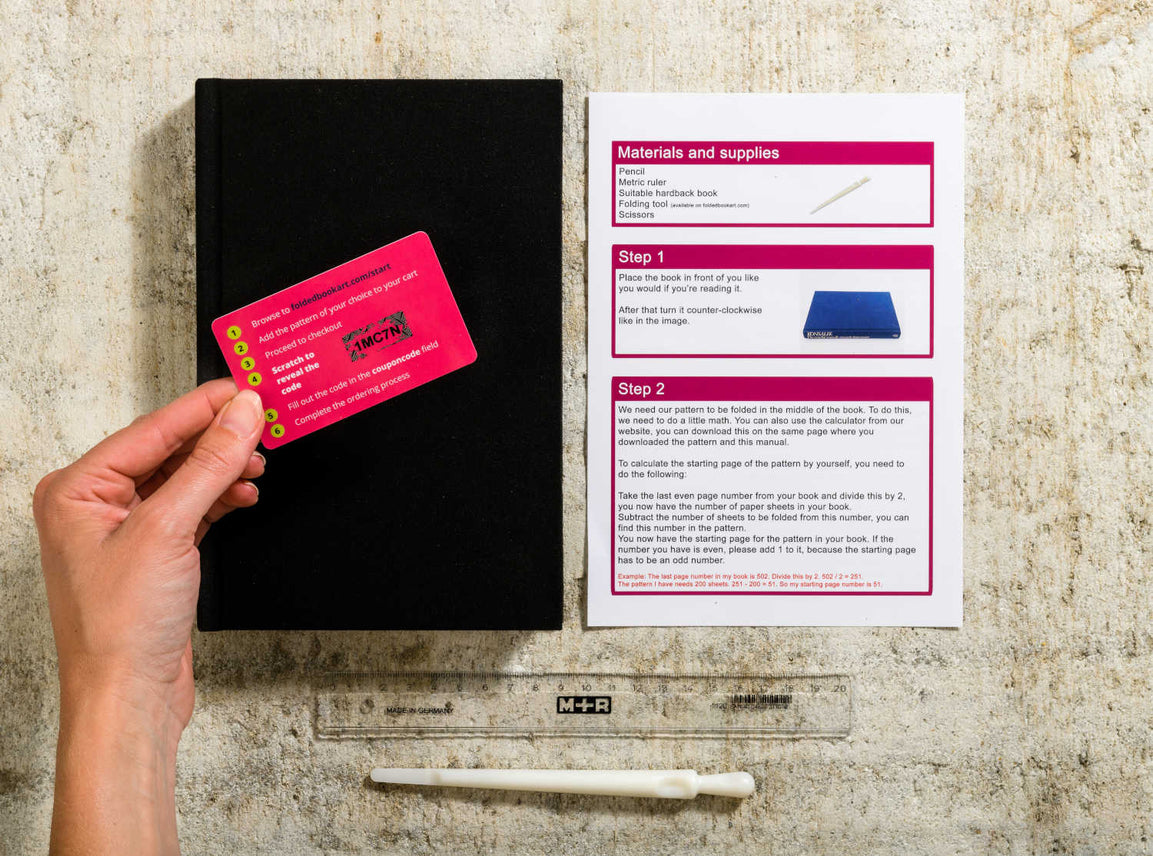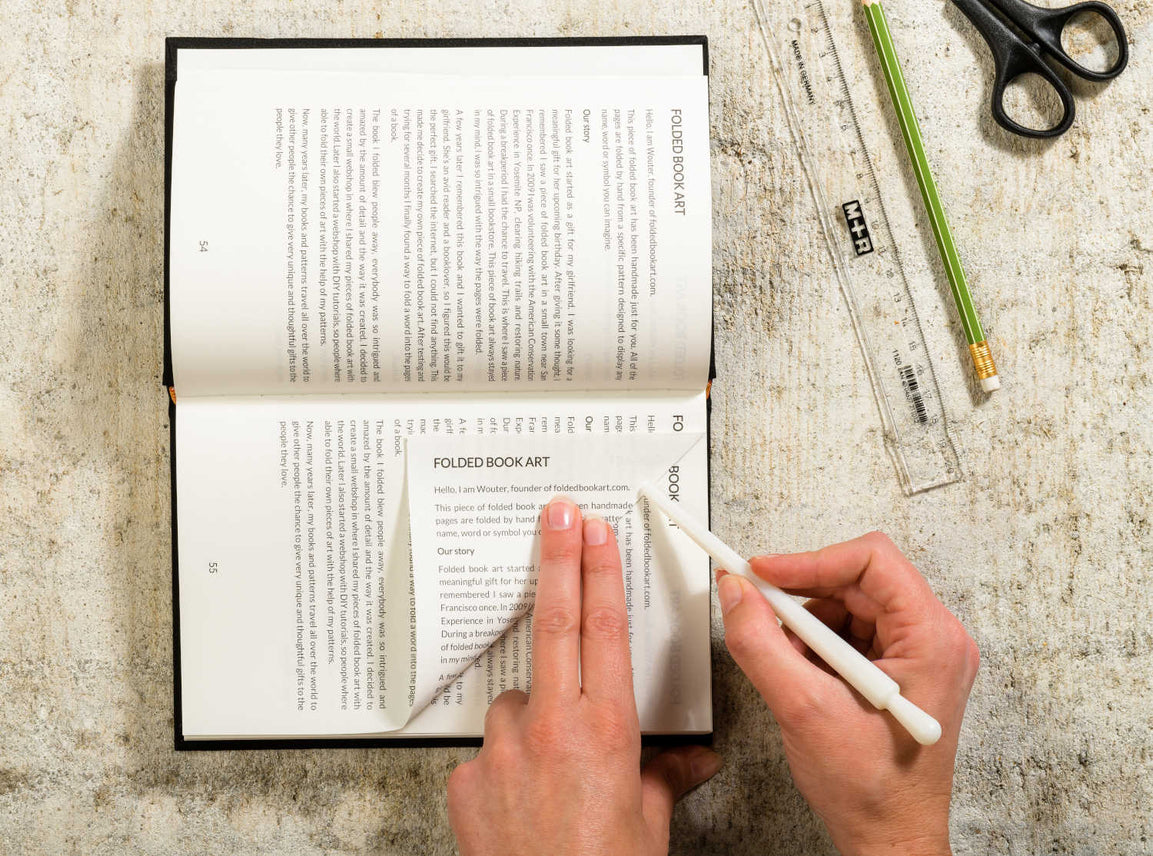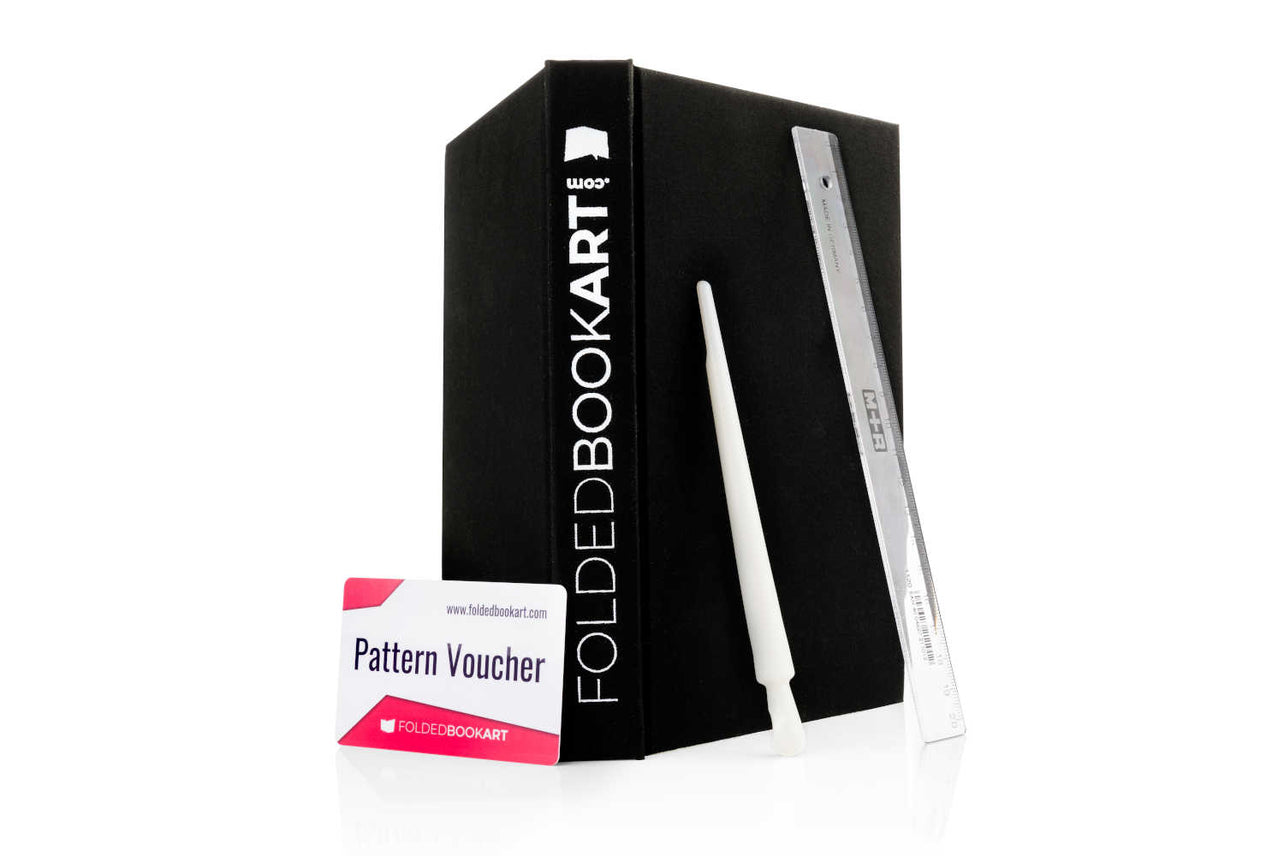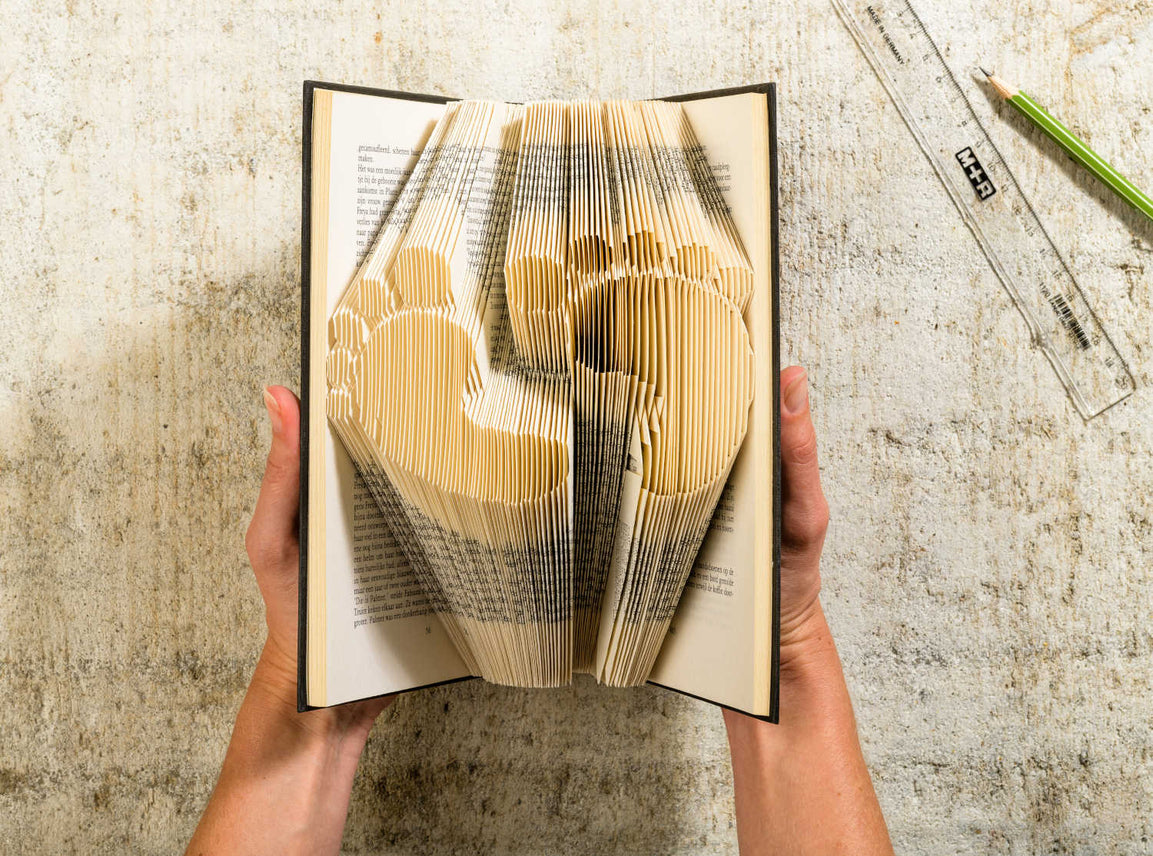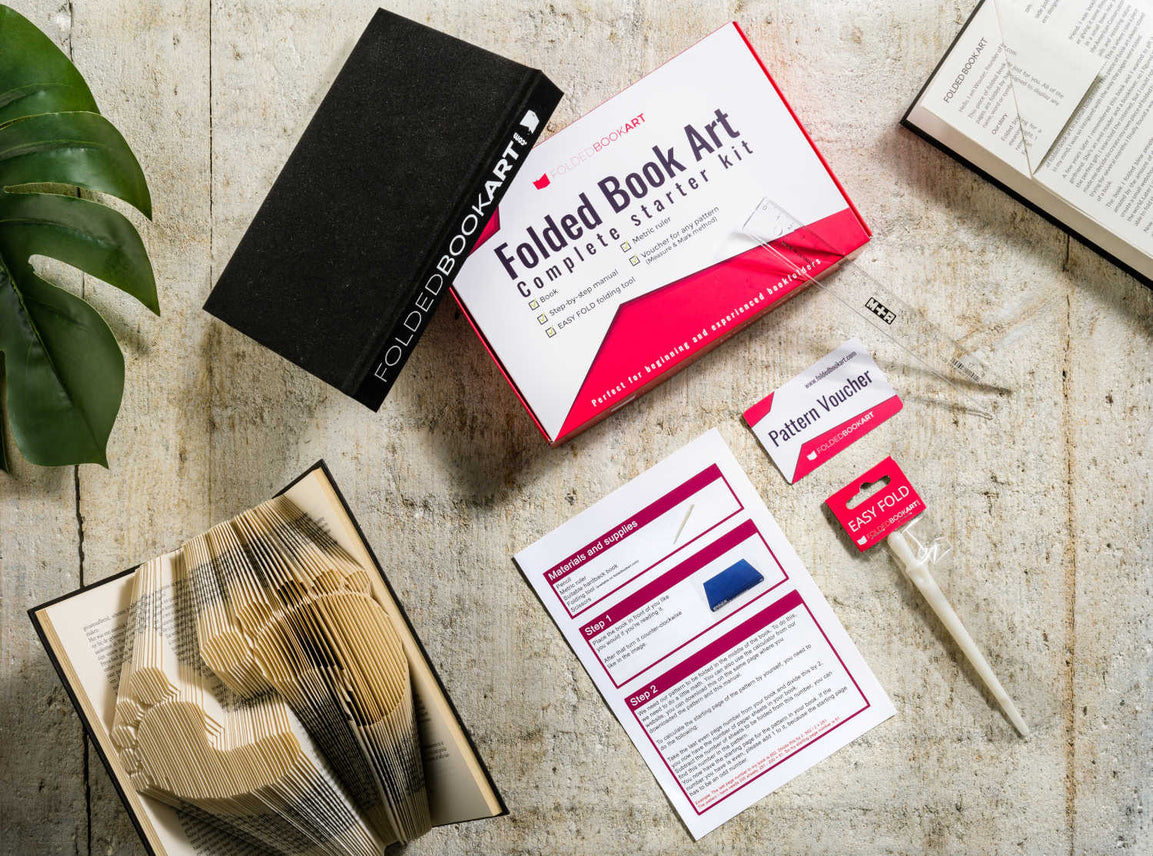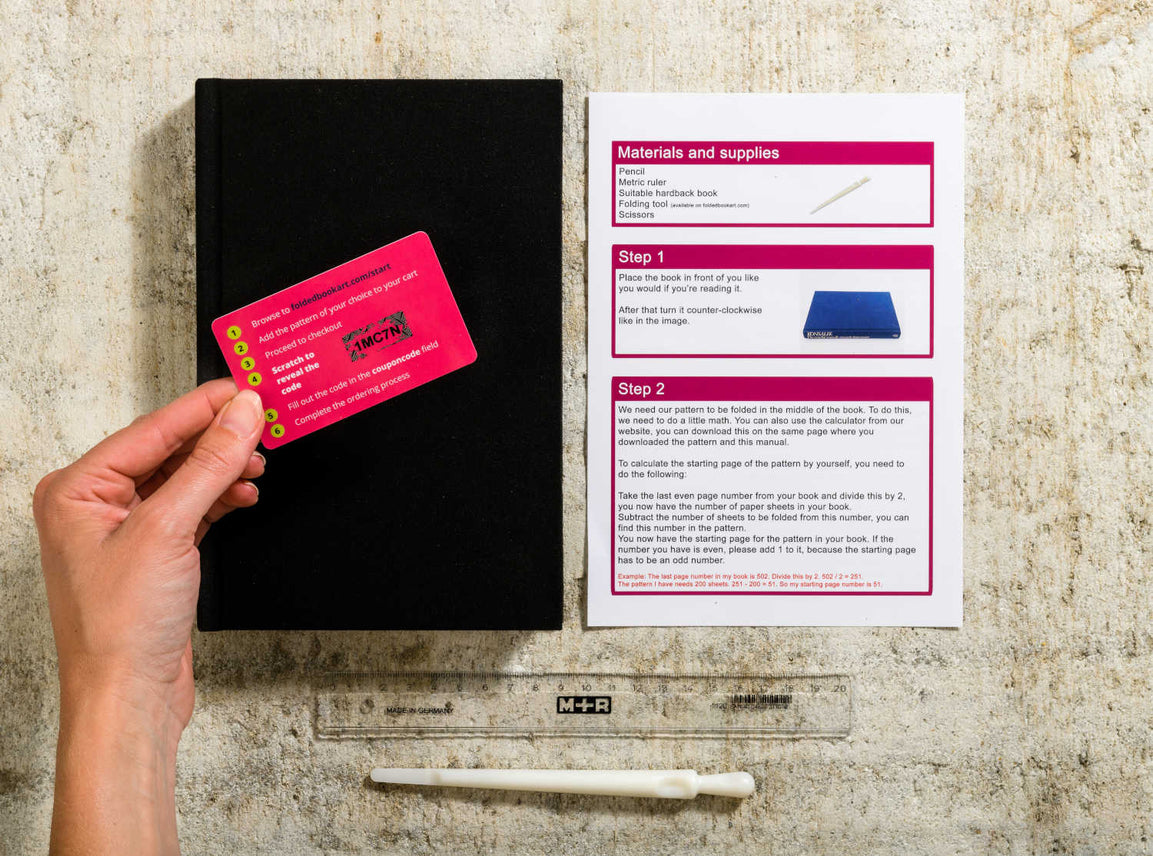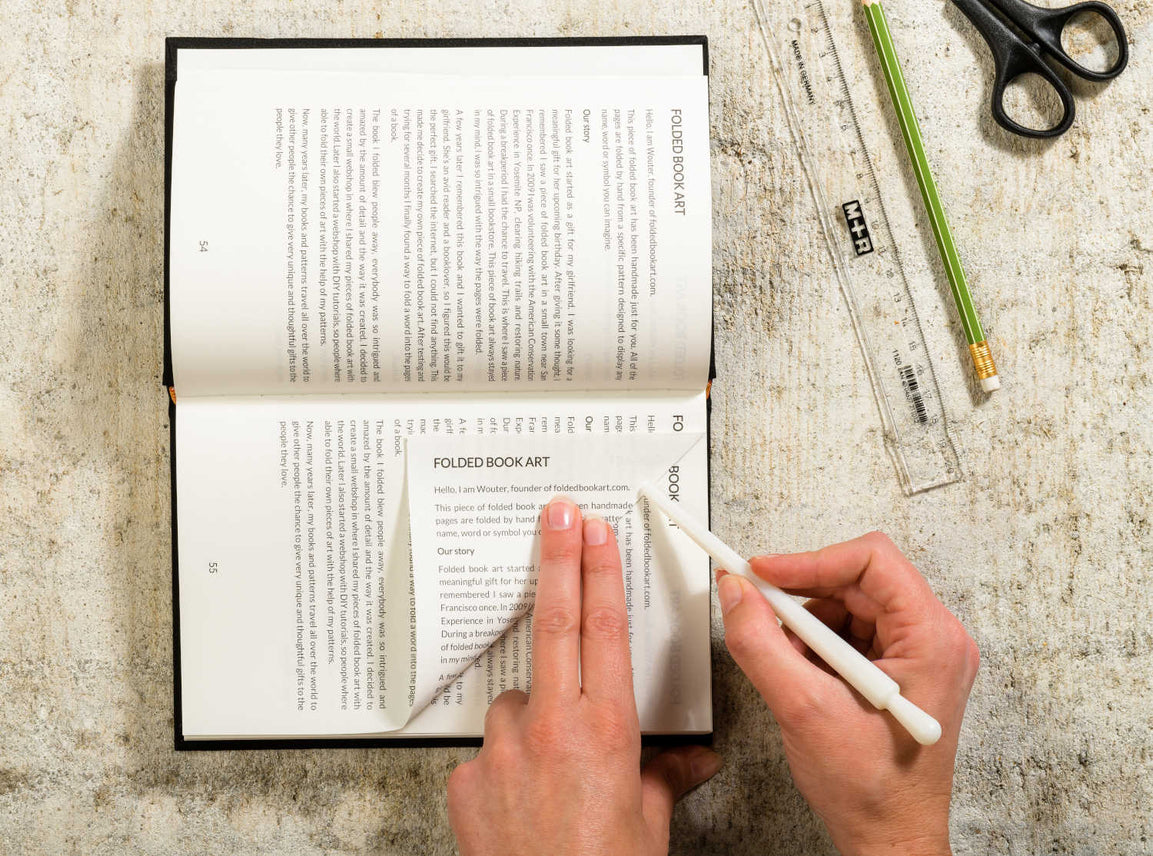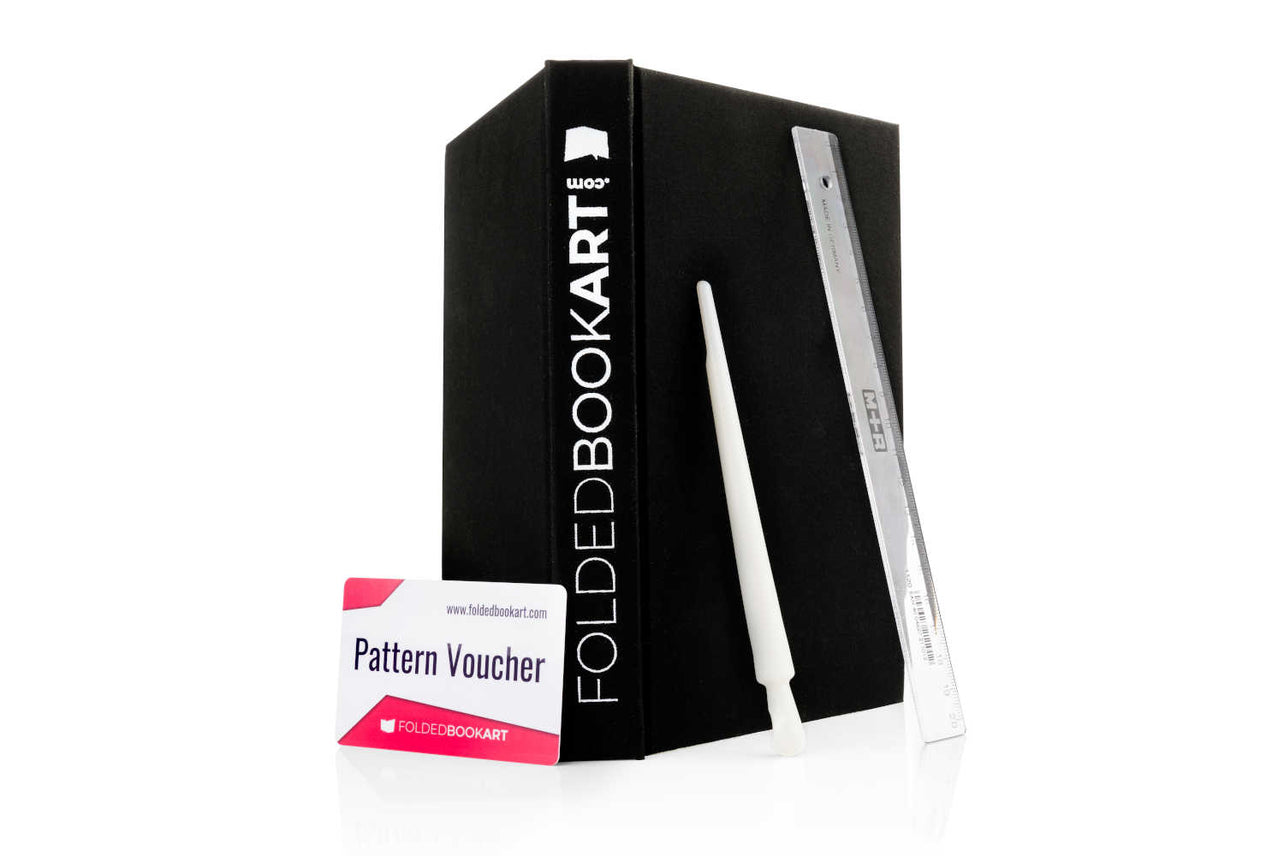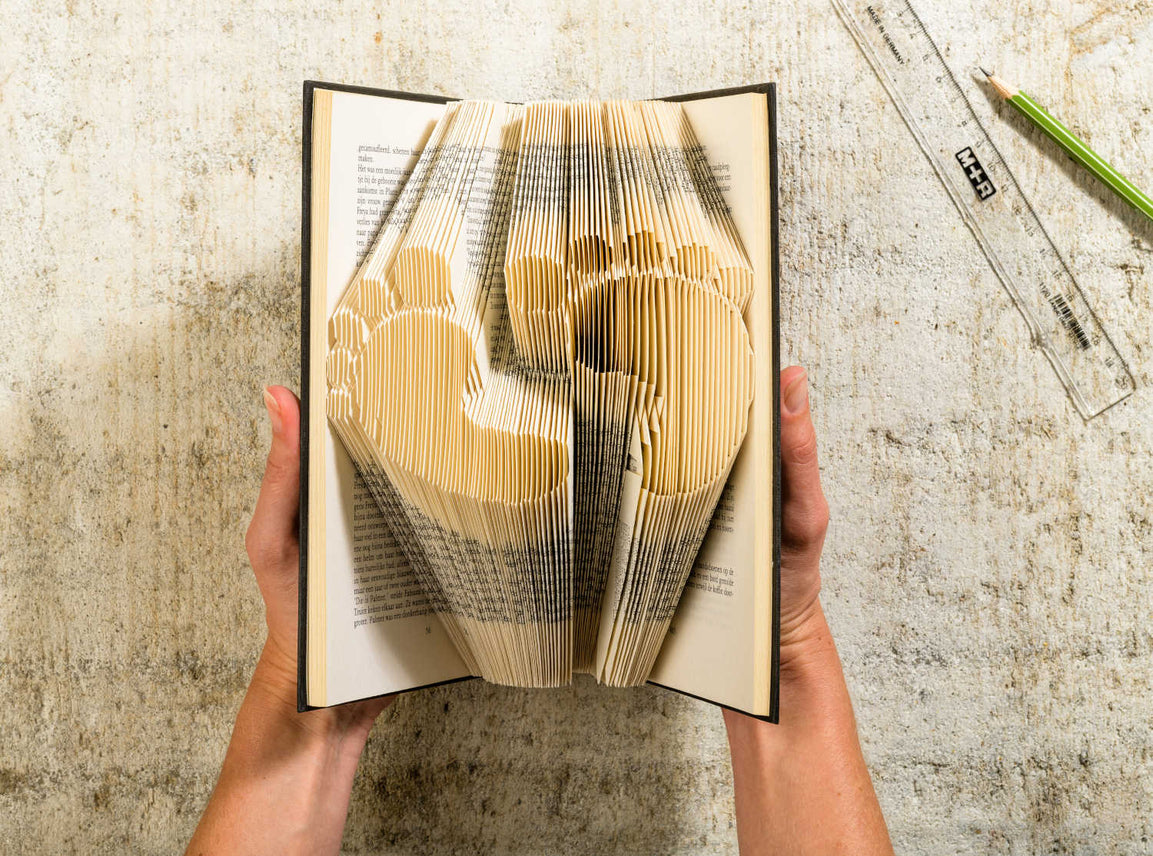 Complete bookfolding toolkit
STEP 1
Select the type of toolkit you want to gift to someone (or keep for yourself ofcourse)
STEP 2
Wait a few days for the deliveryguy to deliver it to your mailbox
STEP 3
Use the voucher in the kit to select and download a pattern to fold
STEP 4
Within 3-5 hours you'll have a wonderful and gorgeous piece of art handmade by you.
Easy to understand pattern
Our patterns are very clear. It's nothing more than a sheet with page numbers (that are adjusted to the book you're using) and two measurements per page.

All you need to do is follow this pattern by marking each page on the indicated measurements. Once you've done that, simply fold each page on the marks and you're done!

Pattern received quickly and instructions are clear and easy to follow. I have made several of these and the end product always turns out great! Make a great gift!
Sandra L.
6/21/2021
I just started working on this awesome pattern and it is so easy to follow. I am new to book folding and absolutely love your patterns
Ryanne B.
7/28/2021
Folded Book Art has brought so much fun into my life. I am disabled and need things to keep me occupied. I love folded book art because it's a great hobby and gives you very beautiful results.
Amanda C.
7/6/2021
Easy to order, download and to follow the patterns. Just love these. Will definitely be purchasing more! And the price! WOW, best prices I've seen
Heather C.
5/18/2021
My first pattern. It came out so cute I have to my sister. She thinks I'm so talented amd bragging to her friends about what I can do. Get your pattern today and get the same results. I'm ready to try another
Gloria C.
7/17/2021
This design is intricate and precious, and is perfect as a gift for welcoming a grandchild or for a special friend's baby shower. Always wonderful quality from this Seller!
Deborah B.
7/28/2019
Simply fold on the marks
After following the pattern and placing marks on each page, simply fold each page twice and your perfect handmade gift is ready to go!
CHECK OUT OUR TOOLKITS
Folded books from our customers
Made from our toolkits
My Story
Hi, I am Wouter and I'm the founder of foldedbookart.com

Folded book art started as a gift for my girlfriend (soon to be wife). I was looking for a meaningful gift for her upcoming birthday. I remembered seeing a piece of folded book art in a boutique in San Francisco and I immediately knew this is THE GIFT. I searched the internet on how to make these, but I could not find any instructions. That's when I decided I was going to figure out on my own how to create it. After fooling around with a few methods I finaly figured out how to transfer letters from my computer screen to the pages of a book.

The book itself blew people away, everyone who say it was intrugued and awed by the details and craftmanship that went into it. I folded the word DREAM into the pages of a book, because that was her favorite word. After receiving so much praise about my first book, I decided to create more and share them on the internet. I wanted more people to be able to create their own pieces of folded book art and amaze other people.

So I created a clear step-by-step manual that explains the entire process, from marking to folding. I also created a simple heart pattern for beginners to start with. I'm absolutely positive you're able to create your own piece of handmade love for yourself and blow the recipient of this amazing gift away. After all, there's nothing better than a handmade gift right? A handmade gift that's looks so complicated to create, but really secretly isn't is even better right?

In this picture you see me creating one of my many creations. I'm always working on creating new designs to share with my community of avid bookfolders. We are also welcoming new members to the club every day, so if you've never done it before, simply give my simple heart pattern a try and experience how easy it is for yourself! The price for this pattern is not even $2 USD, so what can go wrong. I promise you, you can do this! It's not as complicated as it looks.
"Expensive to buy, so why not DIY"
STRUGGLING TO FIND A GIFT?
Finding a perfect gift for your best friend or someone from your family can be the hardest thing ever! Especcially wheen you've given numerous gifts before. That's why a folded book art toolkit is the best gift right now for a crafty person!

Have them learn a new craft and don't break your bank gifting a unique gift to them! Try it now!
Crafty
We all know that crafty person who loves creating things.
Early Christmas gifts
Stock up on Christmas gifts for your friends and family early, so you won't have to worry about it later. Our vouchers never expire.
Amaze people
Impress people by gifting them a new craft that they've never seen before. It looks a lot more complicated than it really is.
HAVE NO DOUBT, TRY IT NOW
ALL TOOLKITS ON SALE NOW!!!